Invisible Shoe recently introduced their

FeelTrue™ outsole. I'm pretty excited about this as they are using what appears to be a molded outsole. This outsole has the tiniest amount of toe spring. For those not hip to minimal shoe jive, toe spring means the toes curve upward. Most minimal shoe folks will cringe at toe spring as extreme toe spring interrupts the barefoot feel. In this case, the tiny toe spring is barely noticeable and seems to perfectly address the user need of big footed-long toed dudes like myself. To

accommodate

my finger like toes, my current huaraches are so long in front of the toe knot that they flop or fold over at inopportune times.
My original huaraches
The tiny toe spring of the Feel True outsole will add what I'm hoping is just enough stiffness to keep the sole close to my toes.
As has been noted by Maple Grove Barefoot Guy in his Invisible Shoe review, Steven and Lena at Invisible Shoe are the model of prompt and polite customer service. Within 20 minutes of placing my order, I got a personalized note from Lena saying that my shoes had shipped. Awesome! It has so far been a true pleasure to do business with Steven and Lena.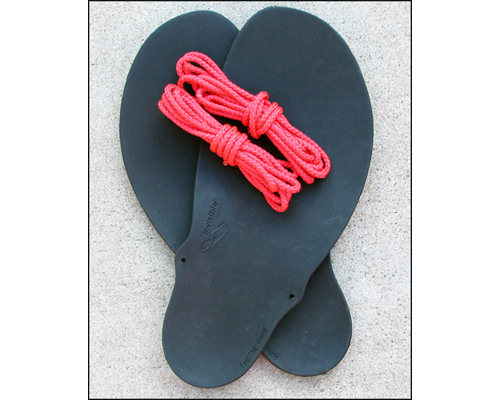 The 6mm choice was based on Steven's recommendation in the Feel True intro video on the site.
I'm really hoping the USPS will have them to me before my vacation because it will be a great opportunity to put some miles on them. Stay tuned for a review once I get some miles on them.